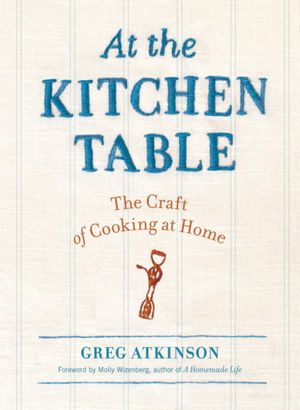 The Craft of Cooking at Home.
CONTEST CLOSED!  Thanks everyone.
Greg Atkinson is so modest (and handsome…). As a chef and writer, Greg truly cares about the source of the food he works with. Having spent time  visiting local vineyards and working with local fisherman gives him a seed-to-table perspective that I admire.  But according to him, the measure that's most valuable is the amount of heart that brings people together for a meal.  Ain't that the truth.
His new book is sort of a valentine to home cooking.  The menus are laced with stories of preparing meals with family and friends.  Greg is a well known chef in the Puget Sound area (one of the first to source local ingredients) but his recipes are anything but chef-y.  They're simple and divine and just what you want for  your next family meal.
He has a brand new restaurant called Marche on Bainbridge Island.  He's always there and always smiling.  And when he isn't flipping the saute skillet or greeting each customer warmly, he's making his staff a special meal so they feel taken care of.  This guy is a peach.  I hear the vegetable plate at Marche is all the rage.  See what I mean about finding flavor in simple good food?
Want a copy of Greg's book?  Sure you do.  And we're giving away TWO.  Yes TWO.  Here's how to enter to win:
1. Be a subscriber of Cookus Interruptus Not a subscriber yet? Type your email address in the subscribe box right up there on the right above the blue navigation box. There's also a place to subscribe on our home page (upper left).
2. Be a friend on Cookus Interruptus facebook. Not our facebook friend? Easy. Go to the Cookus Facebook page and click the thumbs up "like".
3. What was your FAVORITE Thanksgiving side dish as a child?  Do you still make it for your family?  I'm boring – love mashed potatoes.  Practically survived on them as a picky-eater child.  And yes I do still make them every year.  With plenty of butter and cream and salt and pepper. Okay.  Your turn.   Type your answer as a comment to this post.
4. Contest ends at 5pm on November 18th. Check your email on November 19th. The winners will be chosen by random.org. If you don't respond to your "winner" email within 48 hours, we will choose a new winner (tough love…).